AL's Musings- Things the Muse likes
~reviews, guest blogs, author inverviews, virtual tour stops, random ramblings ~

Guest Spot by Author Victoria Blackman Holt on what insipred her to write and what her muse likes-
Hi! I really feel like my writing career has taken off within the last two years, and it is a great feeling. Don't get me wrong, I'm still not selling enough books to buy myself a nice pair of shoes, but I'm WRITING. Like, really writing, almost every day, and I have projects and expectations and a better idea of what I'm capable of. Here's how it happened!
I've always been an avid reader, and when my boss got me a Kindle for Christmas, and then I discovered FREE and .99 cent books, well I went CRAZY! I began reading books like inhaling. I used to be a book snob, and ONLY read historical romances. Then I would ONLY read intrigue romances. Then I read my first paranormal series, and I got hooked. Now I will read absolutely anything, and have found so many wonderful authors. Part of my metamorphosis from avid reader to writer was the inception of a paranormal story idea. I took it and ran with it. Any time I had an idea for the story, I wrote it down. The other aspect of the change was reading a handful of Indie paranormals. Some of them were impeccably edited, and one or two of them had a bunch of errors. But what surprised me was that even the ones with errors were STILL really engaging and fun reads, and it occurred to me: hey, I could do this! (My job was editing web pages. So I can edit. I know, I know, you're going to miss your own mistakes. That's a topic for another day!)
So then I began working on my first paranormal series. I even quit my job so I could devote more time to writing. I know that's not a luxury everyone can afford. I am super lucky that I've always been a SAHM, even when I was working I was working from home. So that didn't have to change.
Having my story idea and a self-imposed deadline got me going. There were long stretches when I didn't write, either because of family issues or personal mental hang-ups. But again, having that story that wanted to be told, and my deadline, helped get me in the saddle.
During my dry spells, I would read or watch movies or listen to music. Those three things are guaranteed to get my muse sparking. A well-crafted book or movie, or a certain kind of music, can really get my brain firing on all cylinders and pretty soon my fingers are itching to type.
Once I finished my first book, I took a short break of a few weeks, but then jumped right in to Book 2. Again, I would have dry spells and even moments of paralysis. It seemed that my brain couldn't grasp the reality, or my own emotional self couldn't believe I was actually doing it…and that had the power to stop me in my tracks. What I began doing at that point was telling myself: just get the bare bones down on the paper. You can fix it later. I would physically tell myself this! "Just write it. Vomit it out on (digital) paper. Just get it out of your head. You can always go back and fix." That mindset was crucial to me to finishing up Book 2.
During this time, I began embracing social media as a primo marketing tool. I began meeting many amazing Indie authors! What an enriching experiencing to meet and befriend other people who are struggling with the same things! This networking atmosphere brought about other opportunities to use my writing craft.
Now I have unfinished projects that I can't wait to work on. I choose what I'm in the mood for and start writing. Again, music is a huge help to me, and sometimes listening to music while I'm housecleaning can get me motivated to write instead! (Let's be honest; it doesn't take too much to get us to choose a different activity than housework!)
To recap, the things that really get my muse motivated to stir up literary trouble are as follows:
Reading all kinds of books

Watching movies

Listening to music

Jotting down story ideas

Self-imposed deadlines

Projects that inspire

Social media engagement (but not too much)

Getting the stuff down on paper, shutting up that tendency toward perfectionism
For me, these things have really helped, and I feel so fulfilled being able to say unequivocally: I am a writer! Because face it, even if you're not published, if you're writing-you're a writer.
Thanks for the opportunity to talk about something I really love!
V. L. Holt has two books of a trilogy available on Amazon called 97 The Warlochs' Pact and 98 The Witch's Prophecy. She hopes to have 99 The Warriors' Legacy out in 2015. She also has a standalone New Adult romance available on Amazon called Just a City Boy. All of her books are clean or sweet reads. She is the mother of six children, is deeply in love with her geeky husband and has no pets. The kids make plenty of messes all by themselves! Writing is true escapism for her, as well as reading.

Guest Spot by Author Kimberly DuBoise on what her muse likes-
My muse loves nature but cannot write there.
Too immersed in the moment of beauty-ha! It inspires her to breathe,though.
She likes good coffee, tea, dark chocolate. And candles.
She prefers to read something inspirational before we write, loves poems and spiritual quotes. If I am stuck I usually write a few poems, meditate, walk or play music to awaken her.
You can find Kimberly DuBoise at http://kimberlyduboise.com/
Guest Blog cover reveal for Keely Keith-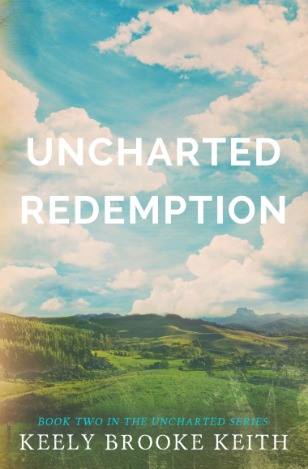 From the author of The Land Uncharted comes the second book in the Uncharted series, Uncharted Redemption. Written like a historical, set like a scifi, and filled with romance, Uncharted Redemption continues this suspenseful story of life in a hidden land.
Title: Uncharted Redemption
Author: Keely Brooke Keith
Release Date: February 24, 2015
Publisher: Edenbrooke Press
Description: Levi Colburn, resentful of his father, haunted by his mother's tragic death, and pained by his love for the unattainable Mandy Foster, breaks from the Land's tradition and begins to build a life of his own. When rebels tear through the village of Good Springs, Levi vows to deliver justice and restore the woman he loves. As tradition stands in the way of redemption and threats from the outside world begin to appear, Levi must learn his greatest battles cannot be fought with his fists. Romantic, suspenseful, and filled with adventure, Uncharted Redemption weaves dramatic new layers into life in the Land.
Purchase Links:
Pre-order signed paperbacks: Uncharted Redemption
Add Uncharted Redemption to your shelf on: Goodreads, Shelfari, FictFact, and LibraryThing
Have your ebook of Uncharted Redemption signed via Authorgraph
Uncharted Redemption is the second book in the Uncharted series. If you haven't read The Land Uncharted, it's best to start here: The Land Uncharted
Author Bio:
Keely is a bass guitarist and lives on a hilltop south of Nashville. When she isn't writing stories or playing bass, Keely enjoys dancing, having coffee with friends, and sifting through vintage books at antique stores.
Author links:

Try Some FREE Samples of my writing!
Light Romance ------------ SciFi/Adventure
Click a Cover to read a PDF of FREE CHAPTERS
Try BEFORE you buy! If you have never read my work before please try a few FREE CHAPTERS before purchasing to be sure I am your cup of tea. If you want to read more you can then purchase my books as an ebook, paperback or SOON an audio book!
Ebooks available here: Amazon, Barnes & Noble, FlipKart, Sony, Kobo, Apple Library and more!